2012 has already started to fly by, right? In a few days we'll be heading into February, and while I've already started on some beautiful Spring and Summer weddings, I've been doing a lot of work for local businesses as well.
One of my most recent projects has been for Cameron Freshwater from CWF Photography. Cameron has such a sweet attitude and keeps that perspective through the lens of a camera. Her photos are emotional and sentimental, capturing what every bride, new mom or grandmother wants to remember: smiles, hugs, happy tears. She wanted to redesign her logo and add some of that personality to her brand. We went through lots of proofs and lots of inspiration before we found something that really clicked, but in the end we came up with a design that really reflects Cameron's style and vision.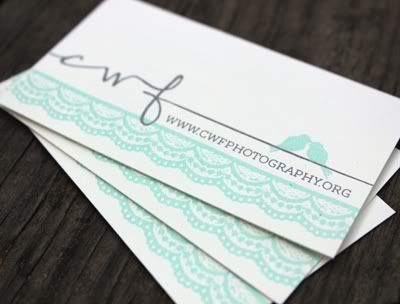 Cameron wanted to make sure that the CWF looked hand-written and organic, and she loved the idea of using birds in the design. I paired those ideas with a lace border on her business cards and
website
.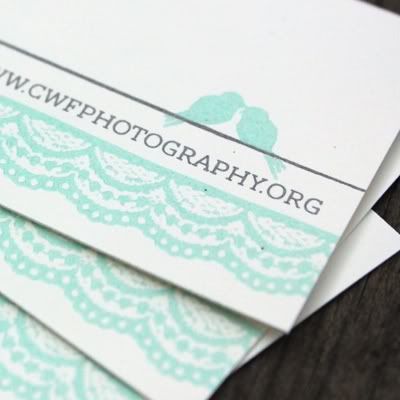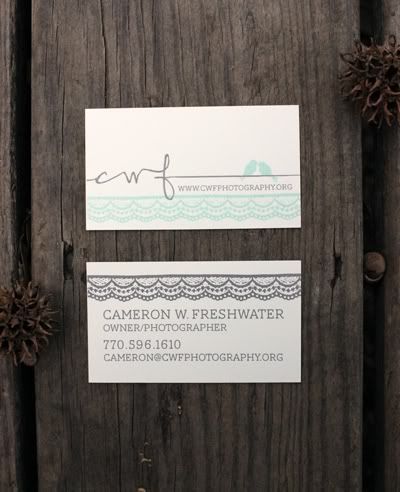 Check out Cameron's
website
to see the design I did there: my favorite part is how we used the lace border to add texture and interest to her layout. Also, just go and admire her amazing work!