This is the season for citrus. How can you tell? Well, whenever there's lots of something filling the baskets of produce at the grocery store, it's usually a very subtle reminder that different fruits are in season at different times. It's far more apparent at local farmers' markets, but even at Publix you'll see lots of beautiful deep red tomatoes around August, crispy fresh varieties of apples in November, and heaping piles of oranges in January and February.
I went by the store today to pick up a few navel oranges for a cake (a
wedding cake
, might I add) I'm making this week for my friend
Hayley's
wedding. By the way, she's had such a cute idea to have all of her bridesmaids bake their specialty to fill the dessert table at the reception - I volunteered to make the two-tiered fancy one covered and piped in buttercream. All of the girls are sharing the recipes and the guests can pick up recipe cards for the desserts they like - great idea! You'll see lots of pictures from her wedding, including my cake, on the blog very soon!
However, what struck me as I was judging which oranges were the weightiest was the variety of citrus along the fruit isle! There were at least six or seven characters: the old favorites like pink grapefruit and tangerines, but there were new faces as well. At this I decided I must have and try them all. Then, of course, share all the experimenting with my blog friends! I picked up a classic
navel orange
as my control, then a
Moro orange
, a
Meyer Lemon
, a
Honeybell tangelo
and a
Pummelo
(which another woman remarked was "scary looking," haha). I was happy to drop ten dollars (the Pummelo was $6 alone because of its size) in order to try these fruits and dispel the fear so many of us shoppers have when we see something new or strange looking.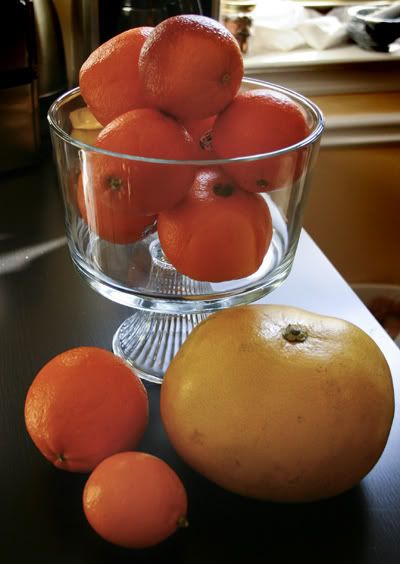 Navel Orange
We all know our good friend, the Navel orange. When in season, grocers sell them in bags or flats for next to nothing - 99 cents a pound! They're full of vitamin C, sweet, juicy and they even come with a little "navel" to stick a fingernail in to start the peeling process.
When selecting a Navel orange, look for a fruit that is bright orange and stands firm to a slight squeeze. The skin should be tight and shiny and the fruit should be heavy for its size. A good way to think of it is that the tighter the skin is pulled (the "pores" of the fruit don't look deep and rugged), the more juice is ready to burst forth. If you get an orange that is too light and porous, you'll probably find that the fleshy white layer is thick and the actual fruit inside is still slightly dry. If you get an orange that is too squashy or has too many dark spots, you'll find that it's old and the fruit is sour. If you find two contenders that you can't choose between, run them over to the scale and see which is heavier! Sudden death round!
The rind of a Navel orange is relatively thin, but the flesh can be rather spongy and difficult to pull away. While peeling, the scent is overwhelmingly sweet and floral. The fruit is juicy and sugary - a classic "orange" flavor. The segments are moderately sturdy - with care, the membrane can be peeled away for salads or just a nice presentation.
Moro Orange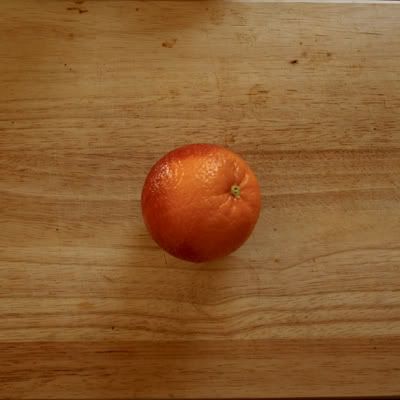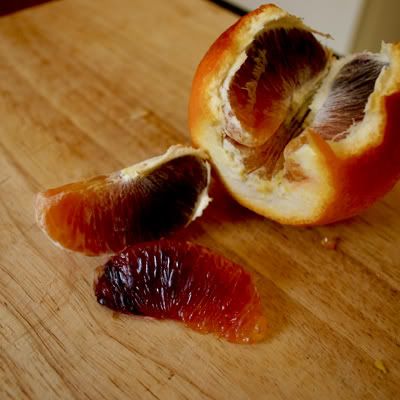 Moro oranges are also commonly called Blood oranges because of the deep red color of the fruit. They make a dramatic statement in salads and their mild flavor blends perfectly with grilled meats.
A Moro orange is slightly smaller than the average orange, and when ripe the skin begins to turn a bold red color. Just like any other orange, be sure to pick one that's shiny and firm and is heavy for its size.
The skin of a Moro orange is thick, but there is little spongy flesh inside and the membrane around the segments is delicate and very easy to peel away. When peeling, the scent is spicy and sharp, almost like an herb. The fruit is juicy, but not hardly as sweet as other oranges. It's curiously mild, with a slight plum sweetness and a dry flavor like red wine. Since the orange comes apart easily, it's no trouble to peel away all the skin and membrane and showcase the beautiful color in savory dishes.
Meyer Lemon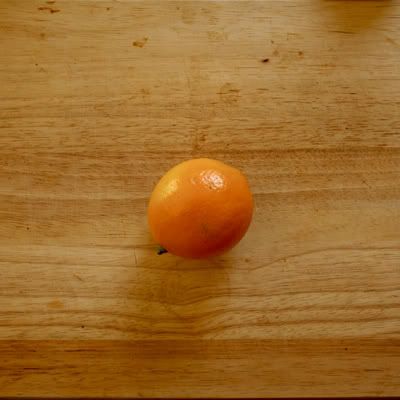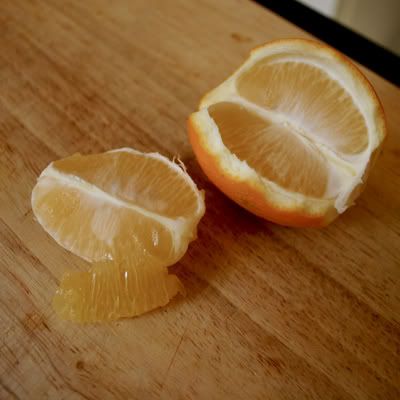 The Meyer is the king of all lemons. Originally grown in China, they were brought to the US in the 1900's and grown until they were almost completely destroyed by a disease. Afterward, they were banned by agricultural regulations to protect the crops of other more common lemons. An improved variety of Meyer lemon returned mid-century, sturdier against disease, but Meyer lemons are still not often grown commercially because they don't travel with success. Why then, is the Meyer still so desirable?
A Meyer lemon, when ripe, turns a bright golden yellow. The skin is thin but strong, as well as the membrane. When peeling, I can't stop myself from thinking "this smells like California!" It's a true lemony fresh, off the tree scent. The fruit is sweeter than a normal lemon, making it ideal for use in desserts. The flavor is intensely pleasant - I mean, I ate it straight like an orange and enjoyed myself.
Meyer lemons are usually twice, if not three times more expensive than normal lemons, but the proof is in the taste. Meyer lemon zest is as good as gold in my house, and if you can get your hands on them when you're baking, your lemon squares will never be the same.
Honeybell Tangelo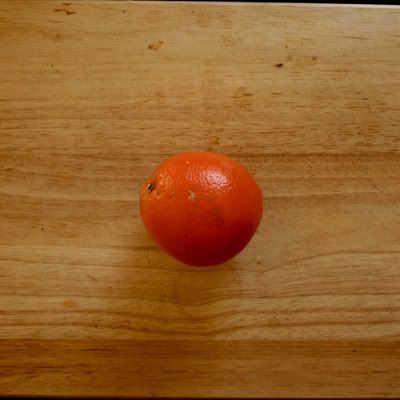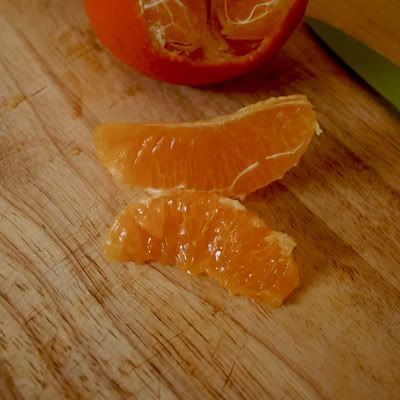 Honeybells are the type of fruit you pre-order in December for their short season in January. They fly off the shelves almost immediately because of their superiority in all areas that Americans value most in an orange.
Honeybells are only ripe for a short period of time, so chances are you won't have a chance to find an unripe or overripe fruit. Just pick up the ones that feel the heaviest. They are a designer fruit, engineered to be the sweetest, juciest, and easiest to peel. The skin falls away at a gentle effort, but the fruit is way too juicy and delicate to try and win a perfect segment. Honeybells were intended to be a snack fruit, so just peel and pop in your mouth! The flavor is more intensely sweet and sour than a Navel orange, and would make a delicious glass of juice if you've got a few of them!
Pummelo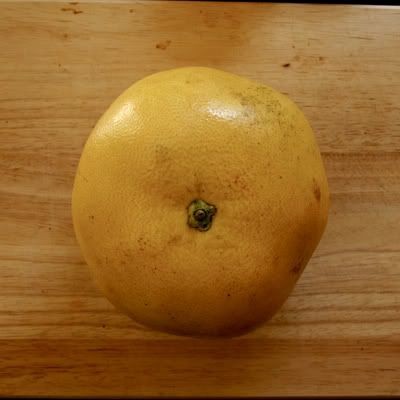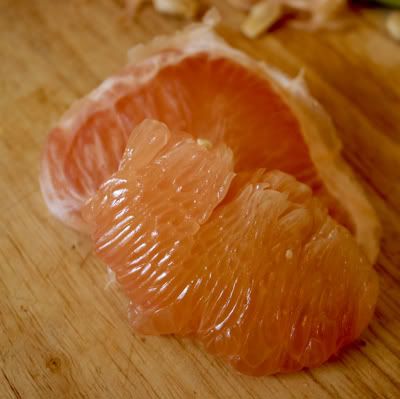 Pummelos, also called Pomelos, are very similar to grapefruit (and some believe they may be kind of a great-grandfather type figure in the grapefruit's life). They were originally harvested in Malaysia and other parts of Southeast Asia, but have slowly made a small niche for themselves in the American market. They are gigantic, mine was about three pounds, and usually illicit sideways glances from shoppers looking for a more common fruit. My theory is that they named them Pummelos because you could probably knock someone out with one if you aim for the head.
A ripe Pomelo should be a pale to bright yellow, not green, and firm to a squeeze. Because of their size, they easily get banged around and squishy fairly fast. Be sure to pick up the firmest one you can find - your grocer will probably only stock five or six out at a time. When peeling, the scent is bright and lemony and the flesh is thick, pillowy and pinky-coral in color. The segments are pink and very large, and have a really substantial meaty texture. They are surprisingly sweet and carry along a slightly salty aftertaste. They are far less bitter than grapefruits and need absolutely no sugar to eat as-is. For this reason, I think they'd be delicious in salads. Hell, make a salad and squeeze the rest for a glass of juice, you've got enough.
---
I looked all around for some
kumquats
with no success, but they absolutely belong in this under-used/misunderstood citrus fruit post. They are small and sweet-tart with an intense, zesty flavor. If peeled, they're mostly sour, but they are meant to be eaten as a whole - skin and all (like a grape). My favorite way to eat kumquats is candied, cooked slowly in simple syrup, and added to desserts or even cocktails. So good!
Hopefully this post gets you excited that we're in the middle of citrus season, and maybe you'll even venture to the grocery to try a strange looking fruit you've never met before!