Why in the world would anybody write a travel post about Binghamton, NY? Only if they were forced to live there by
Minor League Baseball
- and that's exactly why I'm doing it. Where is Binghamton, you ask? Well, let's take a look (you can click the picture to see it bigger):
Binghamton is, essentially, in the middle of nowhere. It's about 3 hours from NYC to the east, Buffalo to the west and Philadelphia to the south. It's about 5 hours from Canada in a couple of directions, and about an hour from Syracuse to the north and Scranton to the south. Binghamton is surrounded by mountains and divided by rivers, specifically the Susquehanna and the Chenango.
There are a lot of semi-interesting things I could note about Binghamton. Mostly things that seem highly forgettable until you live here for a month or two - especially considering that there are giant cities within driving distance. I could mention to you that Binghamton's famous food is the
Spiedie
or that
Binghamton University
(alma mater of
Ingrid Michaelson
) has a nationally ranked School of Education. However, since Binghamton is not that interesting and I'm fairly sure you will never visit, I'd rather just talk about my backyard.
When I first came "home" here in New York, I was moved to tears. Our house is old. There is a sink-hole in front of the dishwasher from what I can only assume is moldy decay. There is no air conditioning. The linoleum is peeling off the floor in the kitchen. It has absolutely no echo of the Floridian fabulousness of our previous golf course condo. I had one very bratty fit of tears over it, and moved on.
However, after a couple days sulking at the breakfast table, gazing out the window, I realized we have a host of woodland animals that like to play in our backyard. We see one or two deer almost every day, yesterday I chased around a rafter of turkeys (that's what you call a group of turkeys, I swear). There's actually a rather picturesque little field of grass and trees behind our house, edging up to the woods.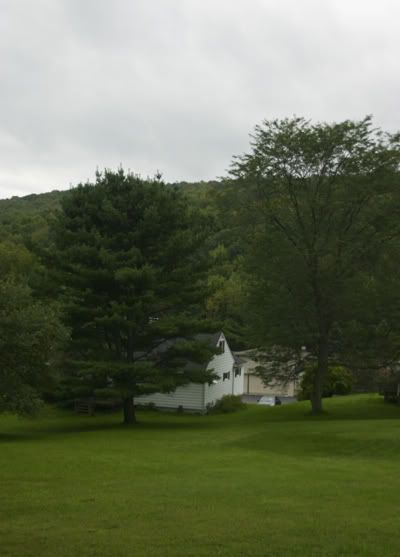 On a brief exploration, Collin and I realized that we have a few apple trees growing back there - six, to be exact. And a pear tree. And two Christmas trees! Today we took about an hour to run around in our bare feet, breathing deep the chilly wet air and picking apples to make into a pie later tonight. See for yourself.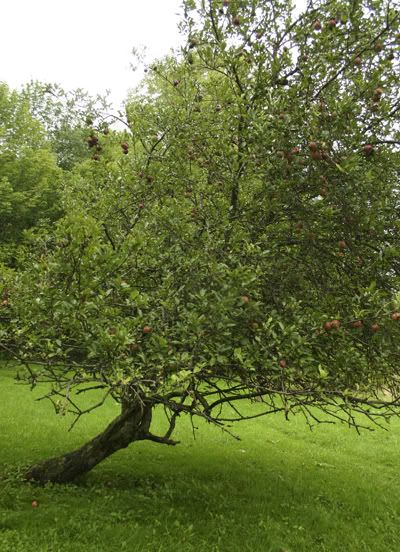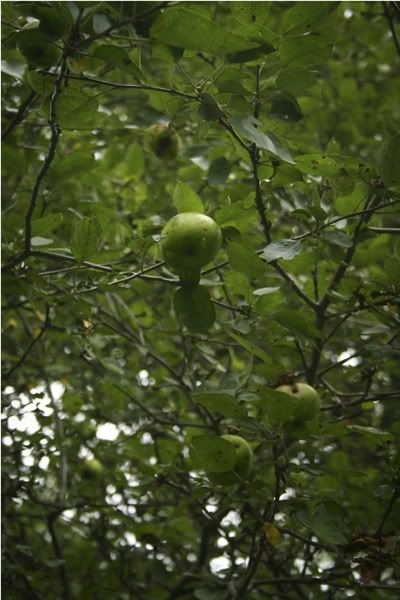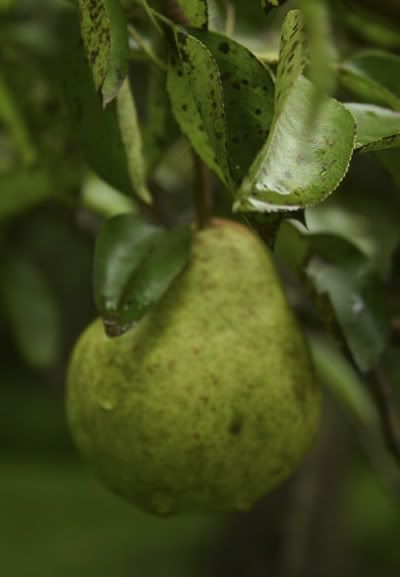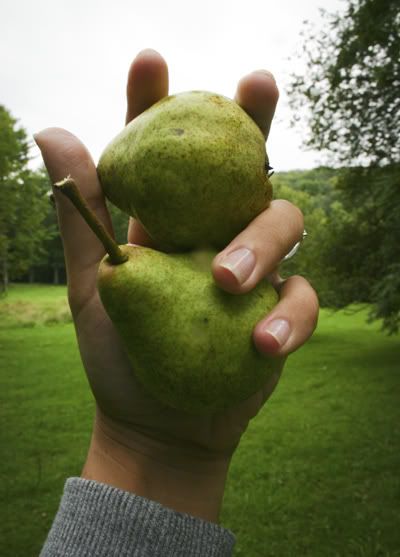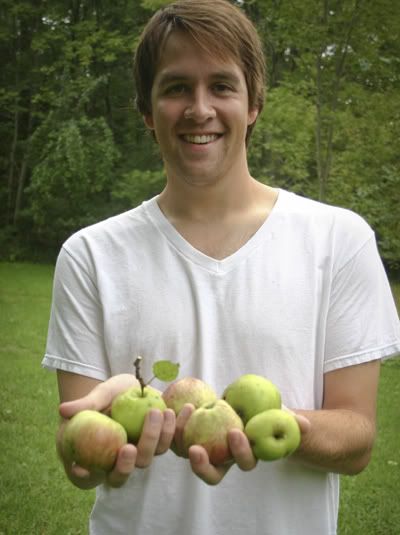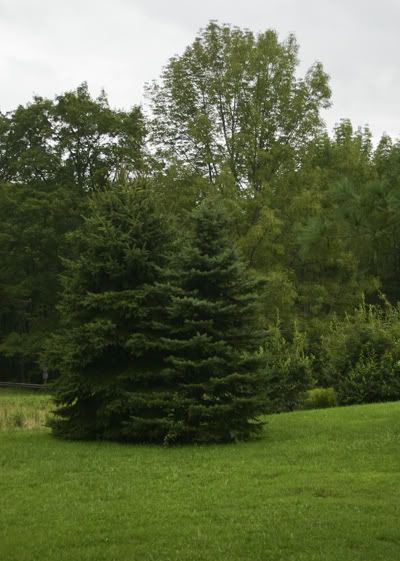 I had such a good time today, appreciating the fact that God takes care of me no matter how much I refuse to see it. Before I moved to Binghamton, I took a look at the pace of my life in Atlanta and knew that I needed rest. I needed visual rest, social rest, emotional rest. Even if that rest looks like peeling linoleum on the surface, it holds a sweet harvest if I'll let myself notice the deer and turkeys and apples. I have a proper first Thanksgiving landscape in my backyard - how simple and wonderful is that?