Okay, get ready for a lot of pictures. Why so many? Because EVERYTHING about this wedding was
gorgeous
and so much of it was
hand-made
by the bride, bridesmaids and yours truly.
You will remember Hayley and Reuben from their
one-of-a-kind invitations
I posted in January. Since then Hayley and I set to work planning out the rest of the wedding. Hayley has two things going for her - creative ideas and confidence! When she had a good idea, she stuck to it until it became a reality. Take a look at the pictures... you'll see what I mean! The photographer is a friend of mine and the bride's, Callie Murray from
Achor & Eden
. She has such a great, sweet personality for weddings, and her work is fantastic!
The ceremony and reception were both held at
Mason Murer Fine Art
in Midtown. The space is huge, and already decorated with art!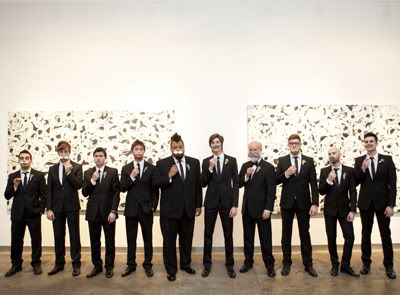 The groom and groomsmen posing with moustaches that Hayley, bridesmaid Ashley and I made out of black and white scrapbook paper.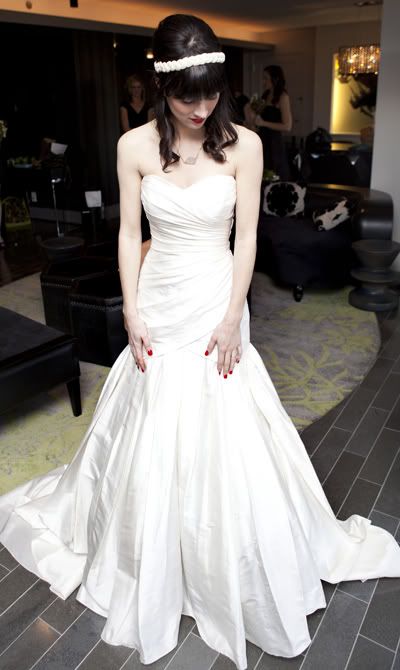 Hayley got her dress at
Kelly's Closet
in Candler Park. Her necklace was made by Margaret Reynolds at
Mickey Lynn Designs
. (you'll see Hayley and bridesmaid Kelly modeling on the website!) Marge also helped Hayley coordinate the reception and ceremony.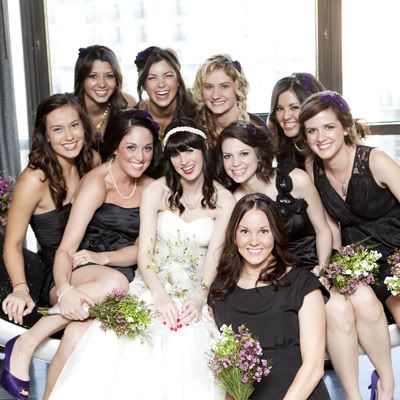 The bridesmaids wore knee-length black dresses and bridesmaid
Allie
made everyone headbands with purple flowers and black and white feathers. Hayley reserved a room at
The W Midtown
for the day, and she got upgraded to an
awesome
suite!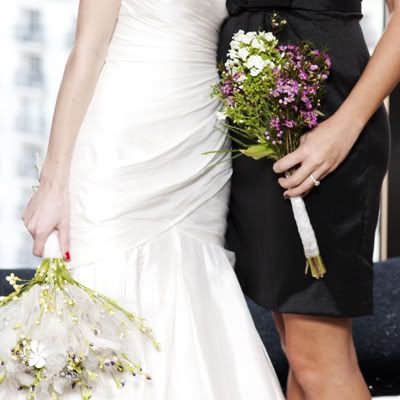 I made the bouquets (purple waxflowers, california berzilia, and phlox) and Allie wrapped the stems. I love the wildflower look - the blossoms were small, lacy and delicate.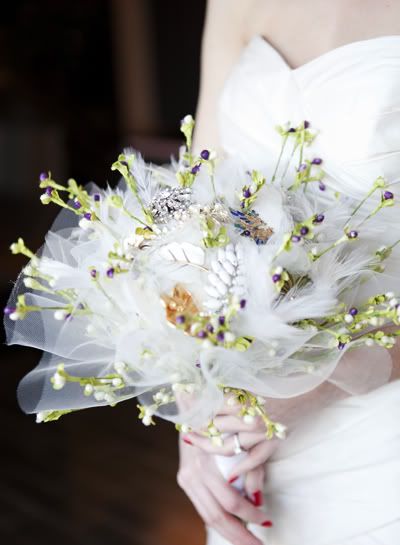 Hayley's bouquet is completely unique - she hunted around Atlanta, New York City and family jewelry boxes for vintage brooches to make her bouquet. She collected all the pieces, and I put them together with tulle, feathers, and a sphere of floral foam. It turned out gorgeous and will last forever! (What a great heirloom to pass down to daughters and granddaughters on their wedding days, right?)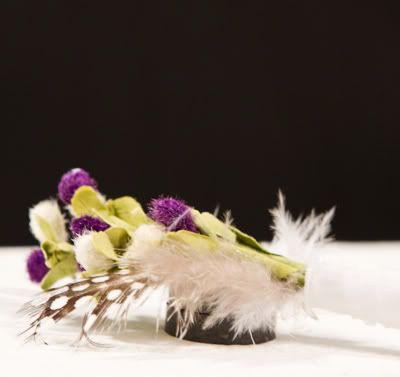 Hayley and Allie also made the groomsmen's boutonnieres - with magnets instead of pins, genius!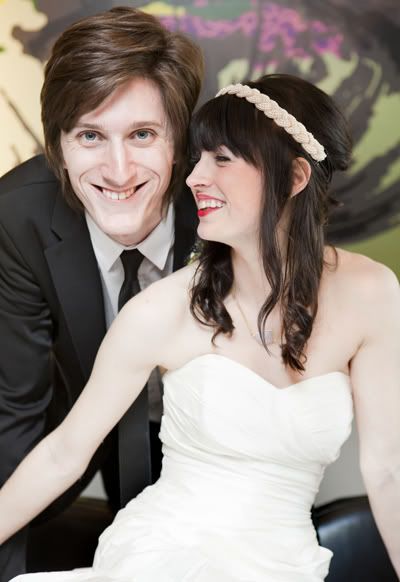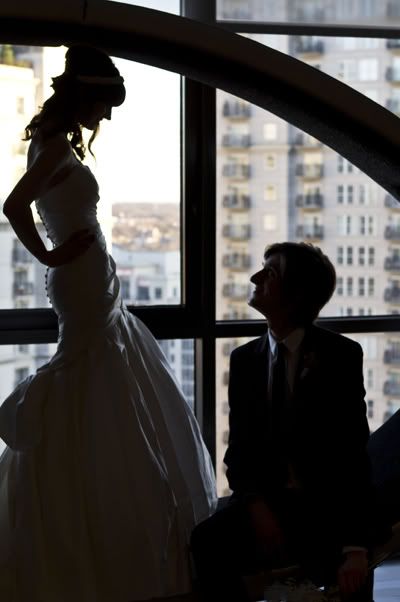 Bride and Groom at The W. Check out the view!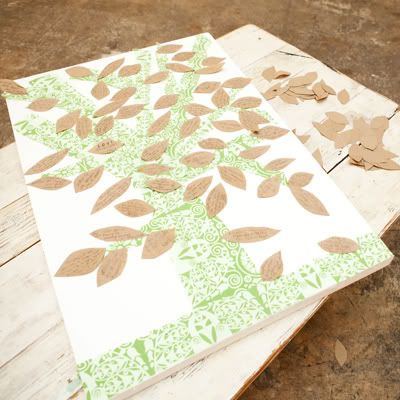 Hayley had the idea to make a "vow tree" instead of a guestbook. She found this beautiful Amy Butler fabric (
Temple Doors
) at Purl Soho in NYC, and used it to make a tree - then she cut out kraft paper leaves for people to write messages on and glue to the tree! Art!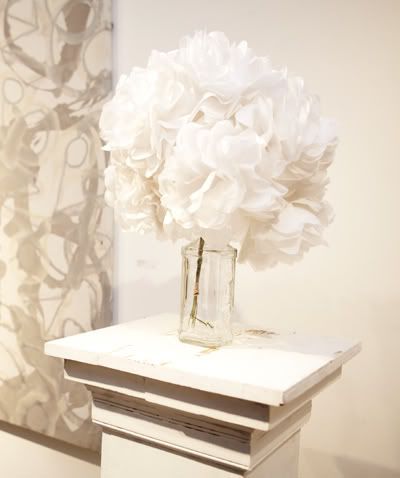 Allie and I made these giant white tissue blossoms for the ceremony - the art gallery had the columns, and two bundles of 12 flowers looked even more magnificent than the best real hydrangeas!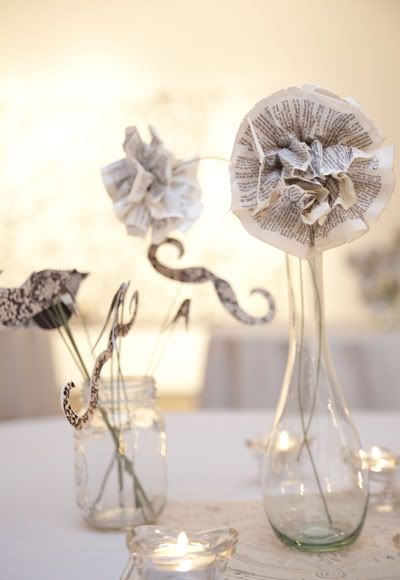 Hayley and her friend Laura used a whole bible to make these book-page flowers for the centerpieces. These were the most coveted items at the wedding - I'm pretty sure several guests left with one or two! Hayley collected clear glass bottles to hold them, and here you can see a close-up of those funny moustaches!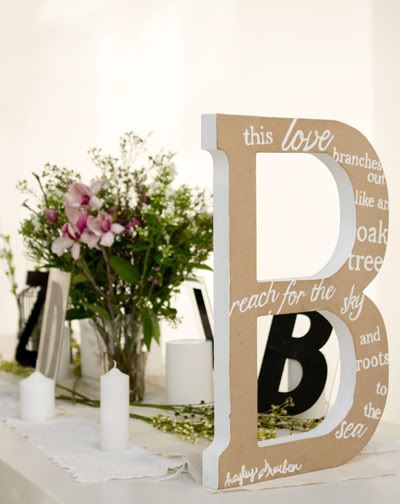 The bathroom at Mason Murer is awesome - one side for girls, one for boys and then in the center there is a communal wash basin (the kind where you step on a pedal and water comes out the faucet?) I decorated the top of the basin with this big kraft "B" that I painted with lyrics, leftover flowers from the bouquets, and sign letters Hayley bought at an antique store that spell "Bidez."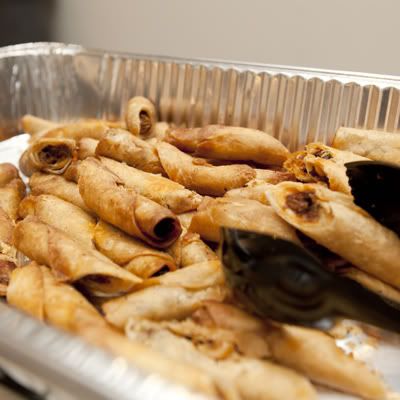 Catering was done by
Fox Brothers BBQ
, and not only were the servers so nice and easy to work with, but the price was totally reasonable! These are the brisket taquitos - YUM.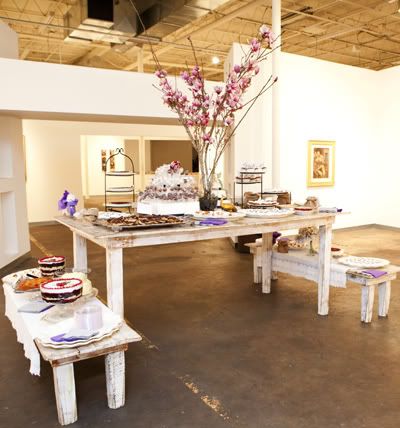 Hayley asked her bridesmaids to each bring a dessert for the reception instead of buying a big wedding cake. Hayley's step-mother made a layered cake, but other desserts included cupcakes, pineapple upside-down cake, banana pudding cups, amazing trifles and raspberry tarts! I also bought some tulip magnolia branches for the centerpiece - these trees are all over Atlanta in the spring and their big purple blossoms are unbelievably gorgeous.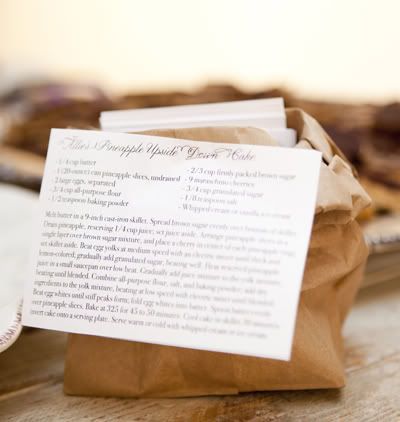 All the bridesmaids emailed me the recipes for their desserts, and I printed out these cards for guests to take at the table if they sampled something they wanted to re-create at home!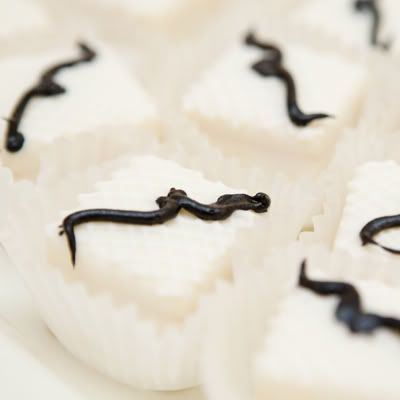 Hayley ordered some petit-fours from Publix - with moustaches on them!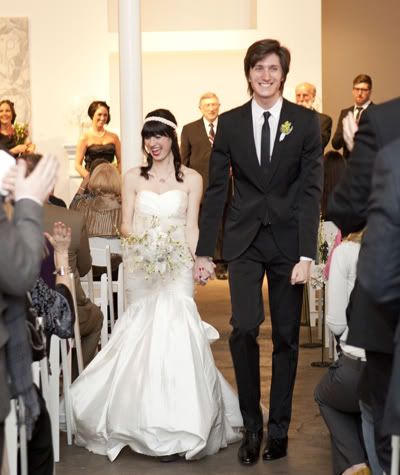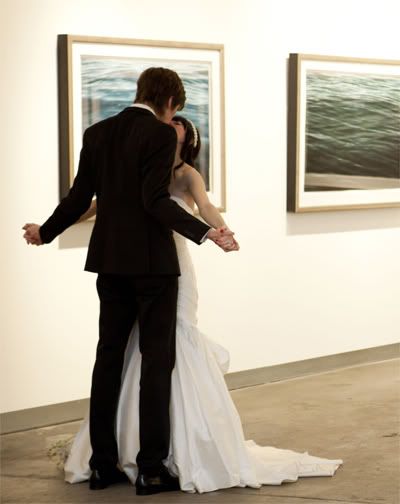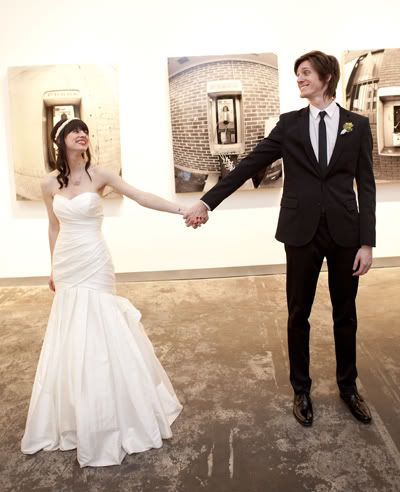 The best part about getting married in an art museum is the awesome backgrounds for your pictures. There was a beautiful abstract piece behind the ceremony, photos of the ocean and these huge photos of phone booths - so much fun!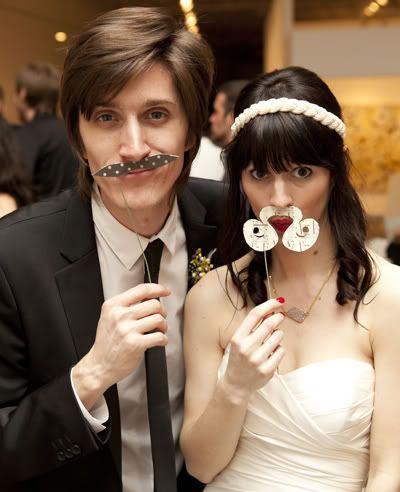 Everyone had fun with the moustaches...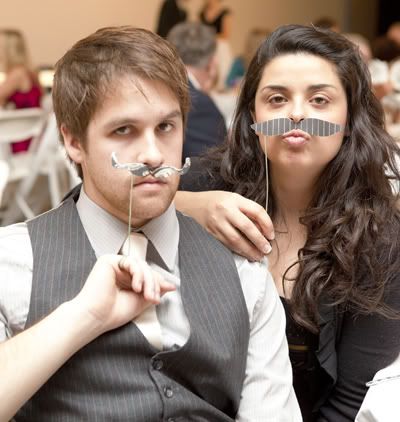 Especially Collin and I. (Don't I look tired? Haha!)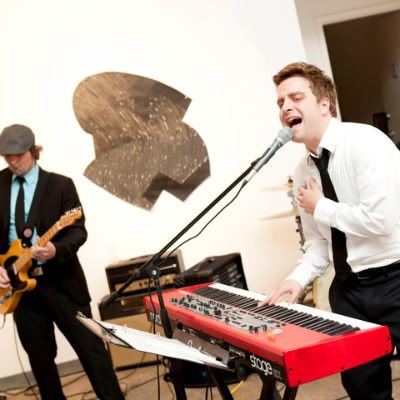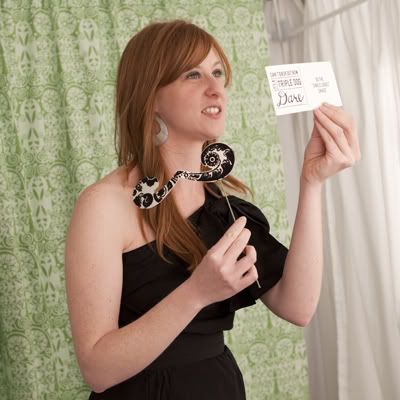 Guests had lots of fun dancing to the live band -
Nathan Angelo
- and recording some hilarious footage in another new project, The Guest Box. (Check back very soon for more information on this!)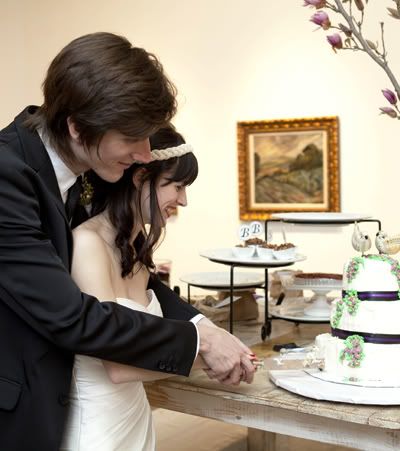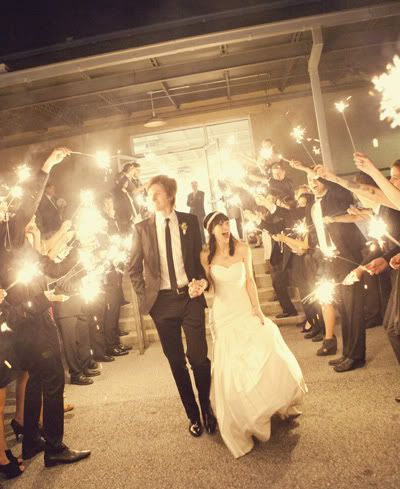 It was an amazing night... it was more hands-on work than your average wedding, but I feel like the results were well worth the effort! Unique, beautiful, fun, personal. That's all you need!