I am so excited about this post for a few reasons. First, because these invites are for my friends Hayley and Reuben... I've known Hayley since our crazy highschool days and we've seen each other through several stages of boyfriends (hah!) and I couldn't be happier that she's found someone so fun and awesome and perfect for her like Reuben! Reuben is a worship leader at lots of different churches around Atlanta, but often at Midtown, where we attend.
Secondly, I'm very excited about these invitations because they're so FUN! This couple has so much personality and absolutely no pretense, and I feel like the invitations evoke the exact same attitude - eclectic, fun and unashamedly different. There is nothing more satisfying than working on invitations for people who love to live outside of the box!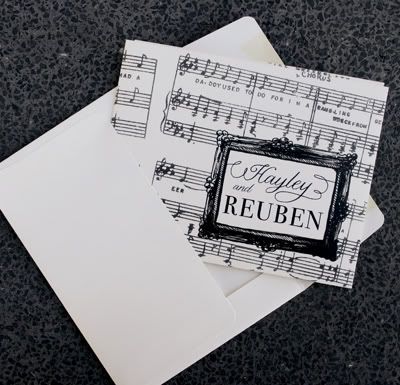 These invitations are laid out like mine and Collin's were - a tri-fold invitation that has a tear-away response postcard. By designing like this, I am able to cut costs by printing the entire thing all at once, and you save money on postage by only putting a 28 cent stamp on the response! Also, I think it's really fun to get an invitation that unfolds, revealing the special parts of it in steps. Here, you can see the perforated line to tear away the response...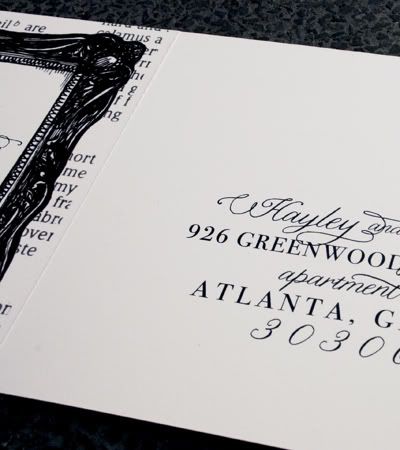 Here is the entire front and back of the invite all unfolded: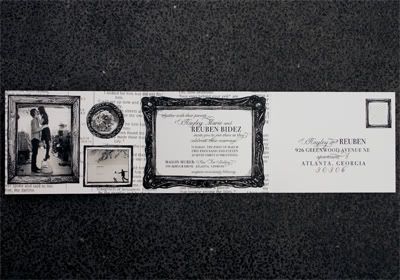 The inside has a bible page background from Song of Solomon... since weddings are all about love and this couple has always been involved in ministry, I thought this was a special choice.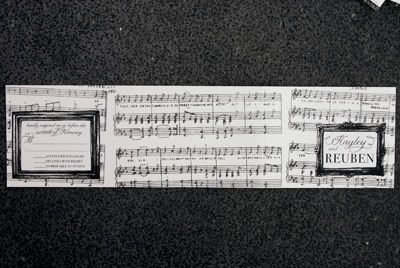 The outside background is an old piece of sheet music from Reuben's alma mater - Georgia Tech! The sheet music is for "Ramblin' Wreck," GA Tech's fight song... a little detail that not everyone will notice, but still fun for those who do!
Since the couple is getting married at an art gallery, I thought it would be fun to vignette the text in picture frames, along with their adorable engagement photos since we had lots of room to work with...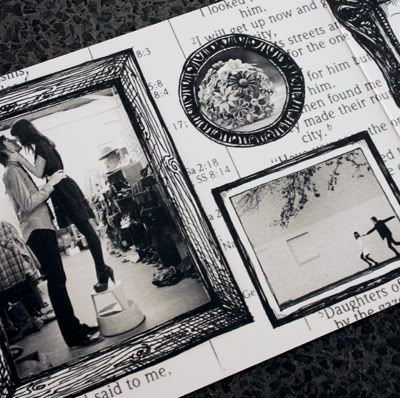 And once the guests tear away their response card, the invitation piece stands alone for a long life stuck to the refrigerator!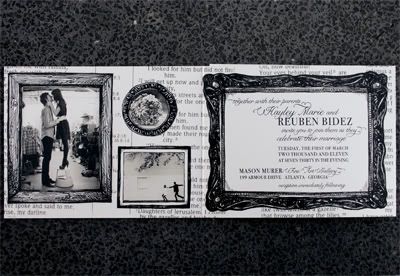 When I printed these invitations, I still had room left on my press sheet, so I went ahead and set up some programs and thank you postcards to match. Still using the same pictures and themes, doing the programs and thank you notes early takes away the stress of having to deal with those things last minute.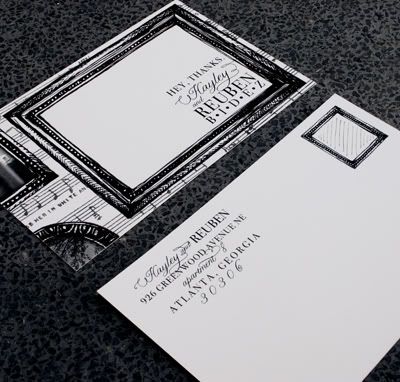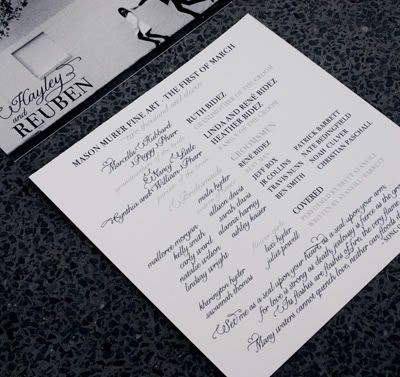 I love square invitations, but squares are always more postage, so I rarely suggest them for my clients. These programs, however, don't have to be mailed anywhere, so I was free to make them square! The front of the program is Hayley's favorite engagement photo, and with their names tucked subtly in the corner, I thought they could easily go from the ceremony back home and put into photo frames - a little picture souvenir of this fantastic wedding! I can't wait to actually go!