You like that sports analogy? I'm getting the hang of being a baseball wife, I think. I have been informed by Collin that I now properly use the term "bush league," whereas before I would say it about anything. Refining my cultural vernacular. Anyway.
The other night we hosted a wedding shower for our good friends Hayley and Reuben, and since it was a couples shower we were expecting lots of people to show up. Well, maybe not lots for an ordinary house, but in our small two bedroom apartment the most people we'd ever fit was about 13. I knew that if we were going to make it through a night with perhaps 20 people at our place, we needed more places to sit.
I had been looking on craigslist for a bench to redo/recover, but everything I found was way too ugly. Usually you see ugly stuff that you can imagine looking nice with some paint and new textiles, but these things were foul. Either the kinds of things you would find in a dollhouse or ones from an 80's hotel lobby. Really bad. I gave up the search until I agreed to host the shower, then I knew it was a necessity. Finally, Collin and I decided to think outside the box and inspiration struck! We headed to Ikea (where everything is multi-functional and cheap!)
We decided to get two
LACK
side tables in white and set them side-by-side as our base. We asked a store clerk if they were sturdy enough to sit on, and she said they use them as stools for stocking shelves in the store all the time. That worked for me - and the price tag of $7.99 a piece
really
worked!
We also happened upon these
IRIS
chair pads in the rugs to pillows to bedding section? You know what I mean. They're perfectly square, exactly 2/3 the size of the LACK table surface - which meant that I could buy nine, cut three in half, stack them two up and make one cushion that was the exact same size as our new "bench." (I promise it works if you think about it for a minute). We bought them and I immediately set to work at cutting the covers off to expose the 15"x15"x1" foam squares inside. I then arranged them to make the size cushion I needed and then sewed a muslin cover to keep them all together.
For the cushion cover, I looked in my extensive stores of fabric I've bought in the past and never used. It's part of my January to March resolution to make something out of all of my (seven rubbermaid tubs full of) fabric and either sell, gift, or use the result instead of moving around 200lbs of fabric every six months! Ick! Well, I found a fabric I bought in 2007 from a semi-deserted looking discount fabric warehouse in East Jesus Nowhere, South Carolina. This place sells fabric by the pound, usually under $5/lb, so the discounts are insane. This one in particular is a fabric by
Premier Prints
called Annie in "sweet potato" (you can always find that information on the selvage if you buy from a discount distributor - good to know if you end up needing more).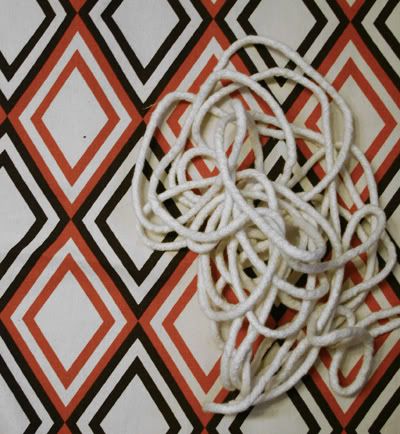 Since the fabric is 48" wide and my bench was only 45" I could use the width of the fabric, and therefore only needed about two yards for the whole project. Other supplies included:
- about 14 yards of welting
- about 2 yards of contrast fabric (brown) for the cording and pillows, I used a thick cotton twill
- a lot of straight pins
- 1 22" invisible zipper (natural) for cushion, 2 14" invisible zippers (natural) for pillows
- a spool of thread (brown)
I bought the rest of the things I needed at
Forsyth Fabrics
right by our apartment. The twill was about $12 a yard, and the welting is something like 40 cents a yard. I went to
Whipstitch
, a.k.a. Heaven, for the zippers. Most of their fabrics are better suited for quilting and apparel, not upholstery, but they have a great supply of notions (buttons, zippers, thread, linen spray, etc.).
I didn't have a pattern for the cushion... I've sewn lots of cushions in the past, but this box-style cover with a zipper and cording was kind of a monster. I got in the middle of it and wanted to die (it was also after midnight at that point). I went to bed, got up in the morning, and then found this great tutorial on
Sew, Mama, Sew!
I had already started the cushion a different way, but this step-by-step helped give me some direction for how to sew the bottom together. With some patience and some extra caution, I finally finished!
I used the straps from the old chair pad covers to make velcro straps for my new cushion. I used the leftover brown fabric and some natural-colored twill I already had to make two 12"x24" pillows to go on top...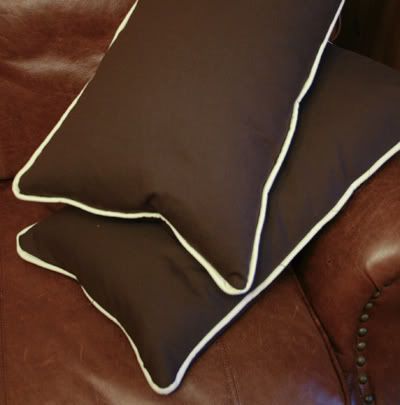 Looking back, I'm so glad that I put together this bench instead of buying something I only halfway liked. The only thing I'd do differently would be to go to Hancock and actually buy a single piece of foam in the size I needed instead of piecing it together. All the cushions from Ikea ended up being $36, which is a really good price for foam. From shopping around quickly for alternatives it looked like a single piece would have been around $70. Was it worth the trouble of making sure those foam squares didn't buckle and overlap inside the cushion? I don't think so. I also could have probably found a better deal on foam (or a coupon) if I had more time... did I mention that I sewed this the day of the shower? Yikes.
It's also great that in the future, when we move into a new place and may not have space for a bench, we can take the side tables apart and use them as tables, or a bookshelf, or chairs - that kind of versatility is what we're looking for whenever we buy any furniture. This bench is only going to be here until the middle of March and we don't have time to brood over purchases! Seriously, huge thanks to my mom and God for giving me the creativity and confidence to make things on my own - I'd be utterly lost without it!