Is it just me, or is food getting increasingly more drab? My mother is one of those people who insists that food is fuel alone - taste is absolutely secondary, and in most cases, unnoticed. I think I got my food genes from my grandmother, who understood when I got married that the only registry I cared about was my ridiculous "I've never heard of that before" knick-knack list at
Williams-Sonoma
. Pastry scrapers, lemon zesters, tartlette pans? Two hundred dollar
LeCreuset french ovens
? A twenty dollar
Zeroll ice cream scoop
? Who would buy me this crap? My grandmother, because she knows - food is way more than just fuel.
I've been to France once, five years ago now, and my all-encompassing opinion of the food there and how it's different was this:
It tastes like food
. In America, everything tastes like the safe bets... vegetable oil, corn syrup, salt. Are you eating anything remotely sweet? Look on the label... I'm sure it's got the corn syrup. Drive-thru? You can't even imagine how much salt you've been dealt. And as far as the oil goes, I love Chickfila, but... well you know where this is going...
My goal as the
Chef de Cuisine
of my own home kitchen is to try my best to always start from the dirt and make my way up. One of the joys of my life is picking basil right from the ground to throw into a sauce, or an afternoon in, making my own bagels. I understand not everyone has time to be so "domestic" if that's what you like to call it, but this is what I do for fun. I don't go to the movies - ever - I cook. I don't go shopping unless it's grocery shopping. I get mad when Collin makes me breakfast because I don't get to. And recently, I've been bored with food for the first time in my life because everything tastes the same. Grease, sugar, salt, repeat.
Well here's the silver lining: There is one thing that I know will consistently pick me up if I'm in a food rut. Whipped cream. I don't understand why anyone buys Cool Whip or Reddi Whip or whatever kind of Whip you can find at the store. Whipped cream is one of the easiest things to make yourself, and the difference in taste is staggering. It tastes like
whipped cream
- not puffy sugar air. In need of some glory this morning, I pulled out my ingredients and decided to share the simple process with all of you.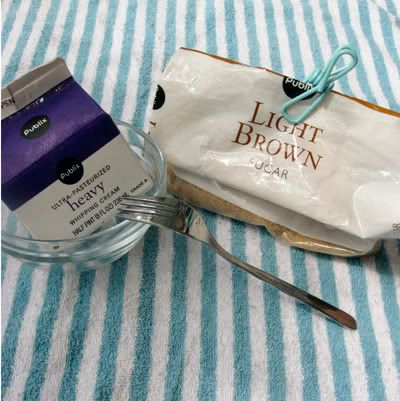 I use heavy whipping cream with a touch of brown sugar, if I'm using it for fruit or cake. If I'm making some
schlag
to top off my coffee (pretending I'm at
Café Intermezzo
), I only use cream.
Today I was just making a little to eat with some strawberries, so I used about 3 Tbsp of cream and 1 tsp of sugar in a small bowl and whipped with a fork. If I'm making more to top a pie or something I mix with a whisk in a stainless steel mixing bowl. If I felt like it, I could have made my own brown sugar (it's just white sugar mixed with molasses to your preference of darkness), but Publix brand was good enough today.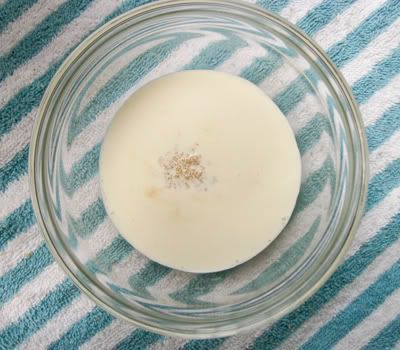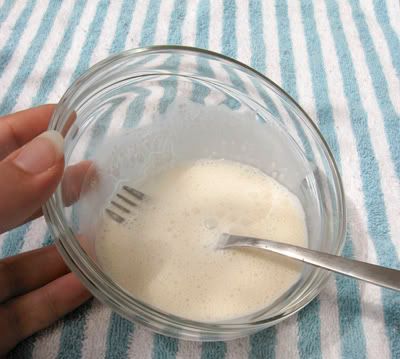 It's important that your cream is cold, and if you need it for a few hours later make sure it stays cold in the refrigerator. It only took me about three minutes to whip this cream up to the right consistency, not to mention it gave me a nice little arm workout. I guess you could use a mixer, but I hate getting all that stuff dirty for a little bowl of whipped cream. I got a little zealous with my mixing and probably went thirty seconds too long, which is why the cream looks a little lumpy (if you go long enough, you start to churn butter), but the result is the same: joy.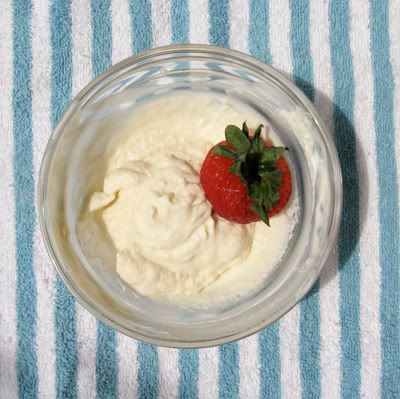 My favorite part is that it's actually
cream
colored. It won't keep in the refrigerator for weeks (or even days), a fact which I find very comforting, and since I make only as much as I need, it doesn't matter. Someone in the internet world: try this, and please tell me it made your life just a teensy bit better.