The most fantastic thing about being a designer/artist/craftsman/creator is
progress
. No matter what you're working on, you always have the feeling that your new project is twice as beautiful as your last. Similarly, it's easy to look back on things you did a long time ago and feel like they're horrible compared to what you're doing now. The tricky part is that your current masterpiece will look just as junky four projects down the line as well.
The truth for me? All of the work I do is unique to each individual I work with, and every project has suited them and their style. Of course, as I learn new things I'm able to apply them to my repertoire in new and creative ways, but the beauty of my work isn't just in what ends up as ink on paper - it's the beauty of the love and personality these pieces represent.
All that to say, I am constantly searching for new ideas, styles, colors, etc. I like to store all of the ideas in my rolodex brain and refer back to them when customers come to me looking for direction. It's not about appropriation - It's about creating a catalog of style, a mental flip-book of swatches and patterns - a place I can pick and choose from to make something completely new for a person who is completely unique.
Through all of this searching and storing, I've found some invitations that absolutely take my breath away, and I thought I'd offer them up for your inner sketchbooks (click on the images to get to the websites):
From
Hello Lucky
...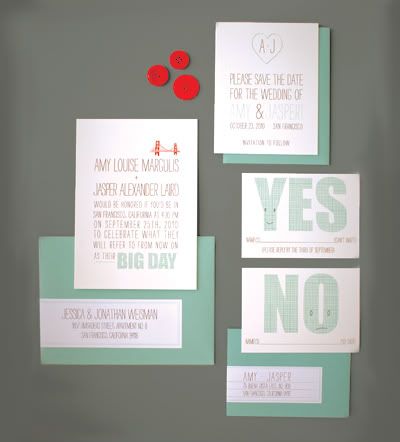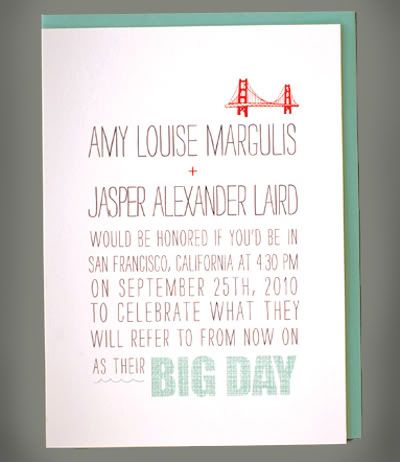 I love the stretched-out handwritten type on these invitations, like a San Francisco skyline against the Golden Gate Bridge. The doodle additions, like the waves and the heart, bring so much personality to the invitations - and I'm laughing aloud at the idea of making your guests feel really guilty for sending you back that frowny-face NO response card!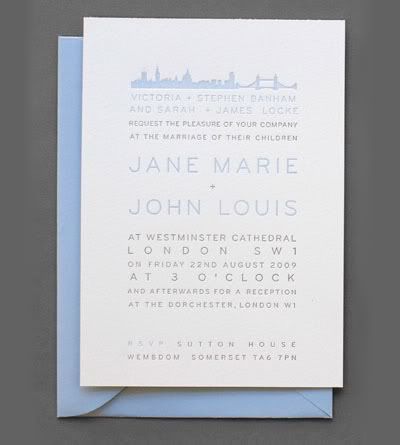 I'm a big sucker for white and baby blue (as you can tell from this entire blog), but I think this invitation is a really good example of making your invitations modern and clean without losing delicacy and grace. A wedding is still an affair with a poofy white dress and lots of fluttering white flowers, and I like the fact that you can be minimalist and not lose that attitude.
---
From
Bella Figura
...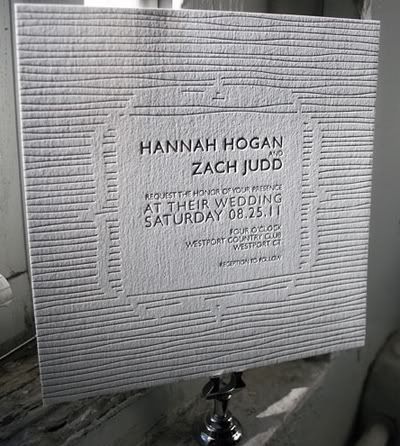 Letterpress makes everything spectacular, and Bella Figura knows it. All of their images show the pieces from multiple angles with dramatic lighting, accenting the texture of the paper and the impression of the design. Looking at the website I get the same feeling as when I'm standing in front of the cheesecake cooler at Cafe Intermezzo. These invitations in particular highlight the depth of letterpress and creative use of negative space. I'm also quite drawn to subtle textures (sand, wood grain, woven fabric) and this "threaded" line across the page speaks to a cool sophistication.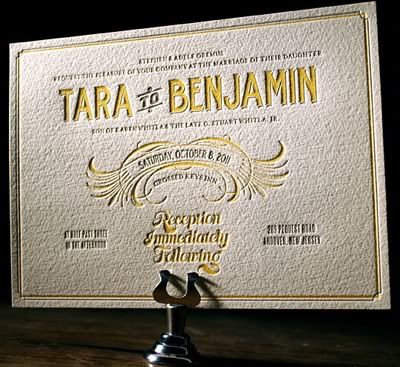 Everybody's got their hands all over "vintage," but I often wonder what in the world that term means. Sometimes organic Art Nouveau and Victorian style mean vintage, sometimes it's the clean lines and colors of mid-century modern, still sometimes it's a teal and peach Art Deco wonder. In this instance it's the last one. The calligraphic accents and notched border speak to Deco design from the 1920's, and the bold type reminds me of old poster designs from that era. Receiving this invitation, I might even feel the need to go out and find an old Cloche Hat just for the occasion...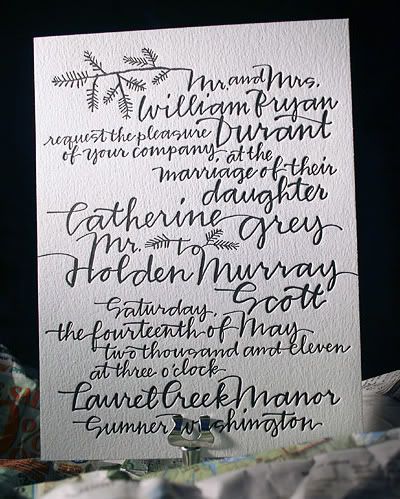 ... and for something completely different, many people have never seen a hand-calligraphed invitation, mostly because they're crazy expensive and the style of most is getting increasingly outdated. Not to fear though, because this one breaks the mold. I love the fact that calligraphy is opening up more and more into a world full of different kinds of handwriting - a favorite of mine is
Anne Elser
, who teaches calligraphy classes at Binders in Atlanta. Why not spend a day writing out your invitation in your best handwriting, then send it off to a printshop to make 200 copies? How personal and priceless would that be?
---
From
Lucky Luxe
...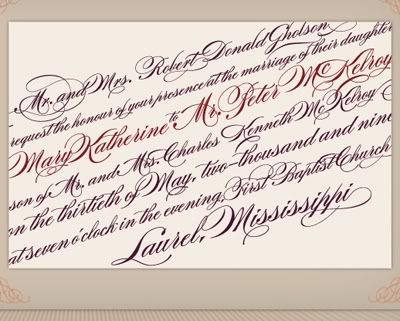 This invitation is very similar to one I found at Bella Figura (which was also featured on Martha Stewart Weddings online), but I'm not sure which came first. Either way, I like this invitation's simplicity but overwhelming elegance. This one could be done very quickly and very cost efficiently for the bride who has impeccable taste, even on a budget.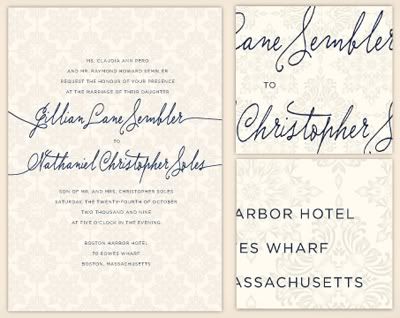 This is another example of casual calligraphy, but in this instance I love how it's mixed with a very traditional format. I think this is a great option for the fun bride who still wants to make her more traditional mother proud to send the invitations to her family. I think this is a look that could read very well to an older crowd and still have lots of unique interest to younger friends. I also like the visual inference I have to make because the edges of the calligraphy bleed off the sides... was this merely pen on paper or did someone form the letters from a string?
---
From
Minted
...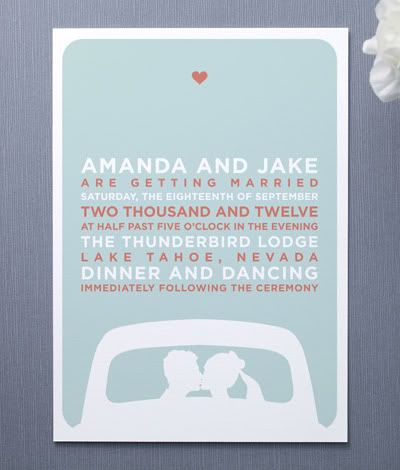 This final invitation is my favorite in a category I like to nickname "comic book chic." Graphic images, silhouettes, icons, word bubbles - all of these are becoming more and more acceptable additions to your wedding invitations, and I like it when they're sugary sweet and cute as a button. The fun colors match the nature of the illustration, and I'm absolutely smitten with the little heart icon topping it all off - almost like a cherry.