So, I realize it's been almost a month since my last post, but I don't have a camera right now to take any pictures of my projects! I was getting antsy about this today when I realized that this was the perfect opportunity to post about mine and Collin's wedding this past October! Our amazing photographer,
Marc Climie
, just sent us the final disc of all our edited images, and I selected a few that really highlighted the things I dreamt up and made for the wedding...
THE SETTING: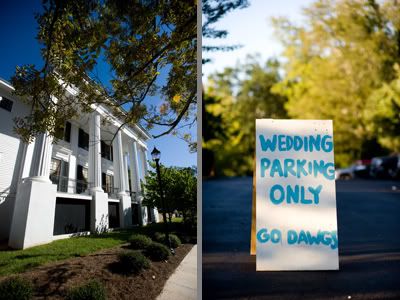 We got married at the
Taylor-Grady House
, a historical home and landmark, now run by the Junior League of Athens. If you're looking for a place like this to get married, it was fantastic! It's got gorgeous floor-level rooms where we had all of the appetizers for cocktail hour, all decorated with authentic antiques. The upstairs was perfectly outfitted for all twenty-six people in our wedding party to get ready for the big day - two rooms for the boys, and two for the girls, and two separate bathrooms! Since I was a resident of Athens-Clarke County when I signed the contract I got a $200 discount off the already reasonable price!
We decided to hold the ceremony in the front yard - getting married on the front porch - and to house the reception in the backyard. For the ceremony, we set out 350 white folding chairs in the front, and in the back we had room for a dance floor, 33 open-air tables, 16 buffet tables under a 30x70 foot tent, and 5 small couples' tables in an adorable Boxwood Garden to the side of the house...
The picture to the right is of a plywood sandwich board my mom rigged for us to block off parking at the doctor's office next to the Taylor Grady House. We got married in Athens during the UGA/LSU game (literally during the 3rd and 4th quarters) and we knew we couldn't take any chances on downtown parking. We put up some ropes and I painted the sign to let people know... you can't have our parking spots, but we will be rooting for the Dawgs!
THE PEOPLE: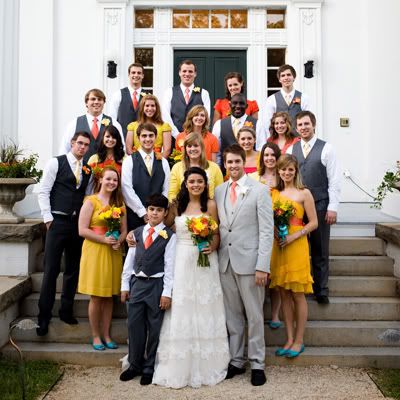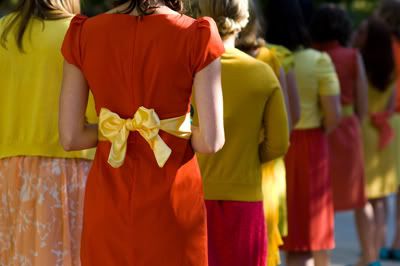 We decided the mood and setting of our wedding called for more casual attire, so we told all our bridesmaids and groomsmen that they had a little freedom. All of my girls are so beautiful and have their own unique style - I trusted them to know what kind of dress would make them look the most fabulous. I told them to buy any knee-length dress in orange or yellow and to choose a second piece (like a cardigan or a sash) in the other color. Since there were ten of them, I knew that picking one dress would make them look like an orange army or something - I thought of the wedding pictures like ones from a J.Crew catalog - nobody wears the same thing, but they're all on the same page. My favorite part of life is variety, and I think letting everyone choose a different dress gave our wedding more vibrance, personality, and creativity. I made the sashes for the girls a few nights before the wedding with some inexpensive satin from JoAnn Fabrics... actually it was on sale for Halloween costume season!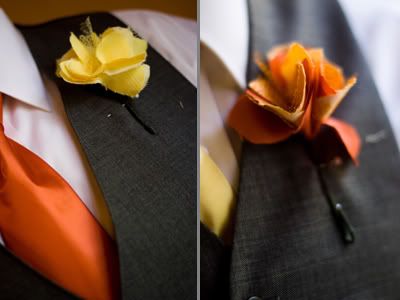 The guys were told to buy only pants and a vest - in grey. Black was too much for the occasion, and Collin had already decided to wear a light grey suit from J.Crew. I had also seen a picture in a wedding magazine where the groom had ditched his jacket after the ceremony and he looked happy and carefree, and that's how I wanted our groomsmen to feel - no use sweating through the whole day in an itchy black tux for a hundred dollars... and you don't even get to keep it! Forget it! My mother and I made all of the ties for the guys in the same satin we used for the sashes, and I made fabric flower boutonnieres for them - just choose an orange tie and a yellow flower, or vice versa!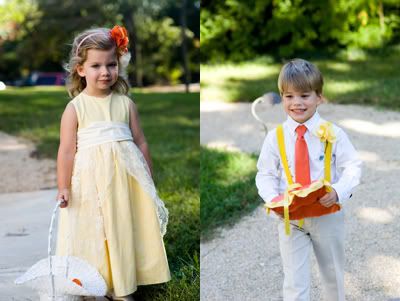 I found fabric and a pattern for our flower girl's dress, and her grandmother sewed it together for her to save me some time and sanity! I chose a pale yellow to complement her sunny complexion and an ivory lace overlay to relate to the lace on my dress. I made a giant orange flower and sewed it to a headband for her. Bennett, our ring bearer, got a mini-version of the ties we made for the groomsmen and a yellow boutonniere. I ordered his awesome yellow suspenders
online
(the website is a little sketchy, but it worked!) and used more of the satin to make his ring pillow.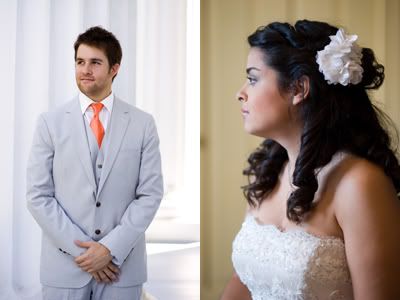 Here you see Collin's J.Crew suit with his orange homemade tie (looking good, if you ask me!), and below is a close-up of his boutonniere. I'm showing off the huge fabric flower I made for my hair. I tried on a few veils, but I quickly decided that I just wasn't a veil-type-of-girl, and so I spoiled myself with little swatches of raw silk, organza, double-faced satin, and lace to make a full ivory-to-white tonal flower, finished off with small sewn-in rhinestones to add a little sparkle. My dress is by Casablanca, 1920 - a very popular style, since I know three other brides who have had the same dress! I liked it because of it's vintage styling, Chantilly lace overlay, and the fact that the under-layer was Champagne, which worked better with my skin tone. If I had it to do all over again, I think I'd probably buy some cutesy short white dress from Anthropologie and wear it with a cream cardigan... that would have been more in character, but this dress was beautiful and probably the formal touch the wedding needed to balance out.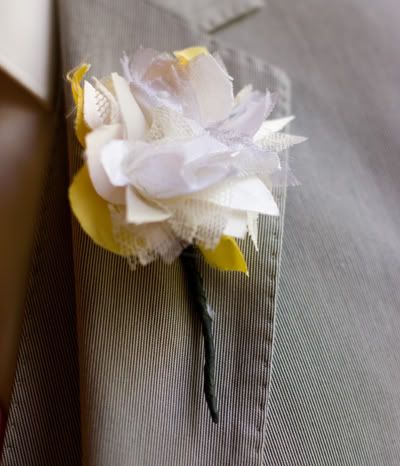 As far as flowers, I knew that for eleven bouquets, twelve boutonnieres, and thirty-three centerpieces, we'd have to pay an arm and a leg! Flowers didn't really intimidate me, so I called around to a few florists to look at what it would cost to buy the stems and assemble them myself. I ended up walking across the street from the Taylor Grady House to the florist next to my favorite Dunkin Donuts -
Flowerland
. The owner there, Debbie, ended up being incredibly straight-forward and helpful. I told her I wasn't trying to summon rare and exotic stems from the Amazon or the Netherlands. Our wedding was casual and home-grown, and I wanted the bouquets to look like plucked bundles from a nearby field. We decided to buy what was relatively local and in season: yellow chrysanthemums, orange dahlias, "Circus" roses, and goldenrod. I ended up buying almost 600 stems for $450 dollars, and I put my army of bridesmaids to work! The day before the wedding, we gathered up the troops and everyone assembled their bouquets. My mother and Collin's aunt trimmed and arranged the rest of the flowers to fit in the 35 clear glass vases we collected and borrowed from friends and family. I thought it was silly to rent vases when everyone has at least two or three fun and unique ones at home! Plus, I think the girls liked the idea of putting together their own bouquets - each was unique and everyone learned how to be an amateur florist! We loaded all our finished flowers into the back of a groomsmen's truck and drove them back across the street to keep overnight in Flowerland's refrigerated storage room (which was very nice of them). We picked them up the next morning, fresh and ready for wedding time, and the girls tied strips of turquoise fabric around their bouquets to finish them off.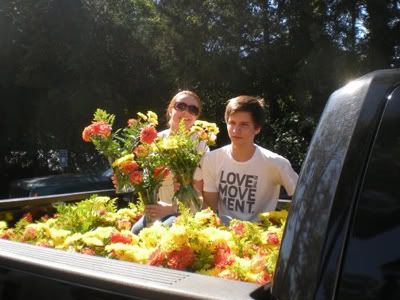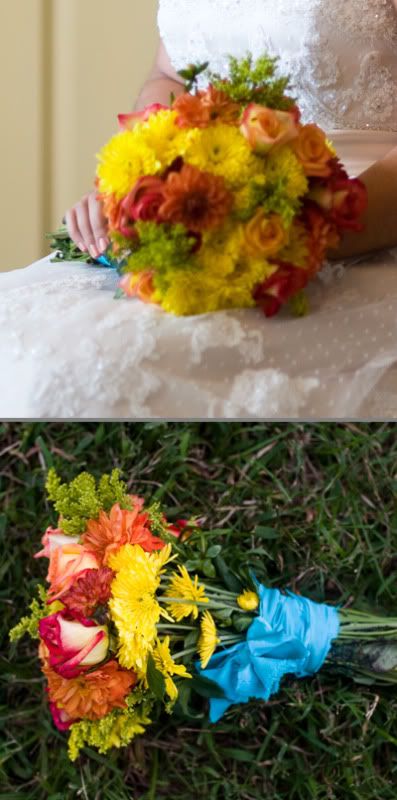 THE CEREMONY:
We rented all of our chairs, tables, and the tent from
Lanier Tent Rental
in Gainesville. The groomsmen set all the chairs out in the front yard the morning of the wedding, and then Collin's cousins moved them to the backyard around all our tables during cocktail hour. With each chair being $1.40, moving them instead of renting two sets saved us hundreds of dollars! In this picture, you can see that while our guests were in the ceremony, we had the full reception set up without chairs, ready to be filled in...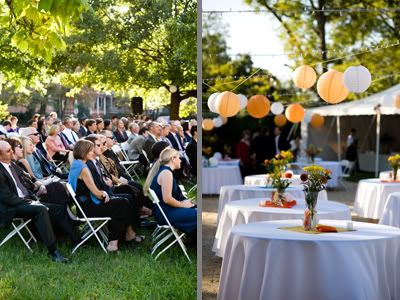 I also ordered about 75 paper lanterns in orange, squash, and white in different sizes from
Paper Lantern Store
online. I got pretty good prices for buying in bulk, and we used the lanterns to create a canopy over our tables for the reception. We also grabbed a handful of white ones to hang from the trees in the front yard for the ceremony.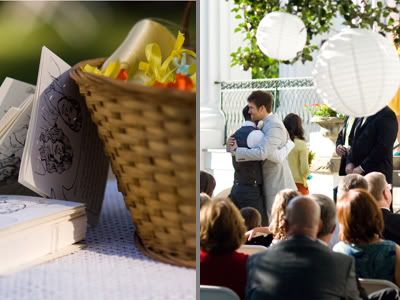 In the picture to the left, you can see that we set out programs on a little side table we found in Collin's grandmother's house and threw a lacy tablecloth over. A good friend, Malorie McCloy, did some drawings of flowers and a portrait of us for me to design all of the wedding stationary, and in this picture you can see that we used the picture of us for the back of the program. Next to them, we put out a basket full of bubble wands for when we left that night, since we knew we'd run out the front door of the house.
THE RECEPTION:
For our tables, we ended up buying white tablecloths since we found them online for cheaper than it would have cost to rent. About eight months before the wedding, I found some square napkins in my wedding colors at a fabric warehouse and decided to buy a few dozen just in case. These ended up bringing color to our tables! For the centerpieces, we used the borrowed vases filled with flowers, six-inch lanterns with a tealight inside to make glowing orbs, Mason jars with old-fashioned candy sticks (like the ones at Cracker-Barrel), and in this picture, a yellow corn-hole bag... which you'll see the use for in a second...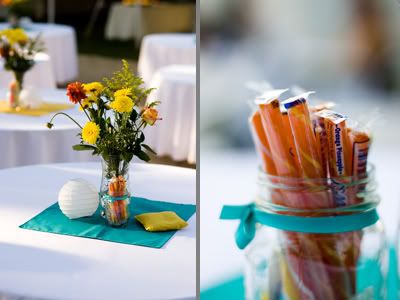 Since we got married on game-day, we decided to embrace the traditions of those sacred Saturdays and make our own "Wedding Corn Hole" games. The idea is pretty simple - you take bags filled with corn feed and try to throw them into a small hole cut out of a board. We made the boards white and turquoise, and then sewed the bags in yellow and orange to keep with the theme. We made a total of two complete sets so that guests could play this classic tailgate game during cocktail hour.
I used some leftover Mason jars to make a string of lanterns for the Boxwood Garden. We just looped wire around the jar to make a hook, dropped in a tealight, and tied them up on string to cast romantic light over our small couples' tables in the garden. I thought with the party we were planning on having, some people might need the privacy for conversations and such...
Once it got dark, the entire scene started to glow and sparkle, just like I imagined. This shot is right at twilight, when Collin and I had a chance to sit and eat something, courtesy of Linda Henderson and
Celebrate the Occasion Catering
! My uncles strung up all the lights, and the whole wedding party hung the lanterns that morning. I loved how they all created a "roof" for the open air reception... instead of feeling vast and spaced out, it was very warm and romantic.
We got our wedding cake from an old family friend, Juanita Hudson, at quite a bargain. She had pictures from magazines and such of all kinds of different styles, and I chose this from her collection. I just asked her to make the icing white and ivory to match the rest of the wedding. The actual cake was incredible - all butter pound cake! Better than that sugary white fluff! The cupcakes were our guilty pleasure... for anyone who has ever lived in Athens, the name
Cecilia Villaveces
probably rings a bell. She is a local baker who supplies all the cakes at
Last Resort
and
Cups Coffee Cafe
. Her master creation is a cake called "Hummingbird," and we got 100 of these cupcakes (at $1 a piece) with cream cheese frosting and candied citrus slices as our groom's cake. Let's just say there were no leftovers!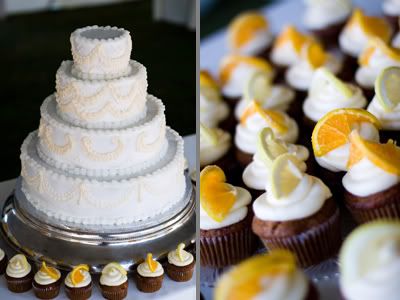 Speaking of Cups Coffee, my maid of honor works there, and so for the reception we bought their delicious coffee and rented a couple of their air pots... plus, since the wedding was outside and we needed to use all disposable dishes, we went ahead and bought 200 paper cups, tops, and sleeves from Cups as well. Getting coffee at our wedding was like driving through a Starbucks!
Once dinner was over, DJ Daniel from
Lethal Rhythms Entertainment
started on the playlist of party music we assembled. Collin and I were both most particular about the music, so we made sure we gave the DJ's at least four hours of songs to choose from to play at the reception. From Persian music to Lady Gaga, we had everyone dancing through the night! One of our bridesmaids even threw in a request for some good old Britney Spears... haha.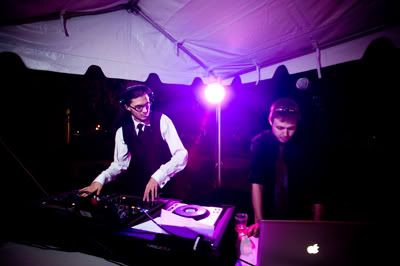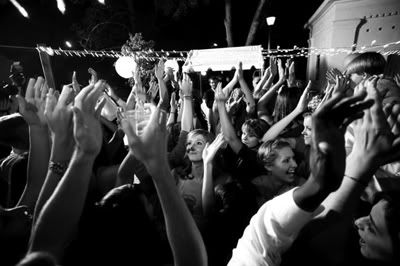 Finally, after many hours, Collin and I ran out to his car through a curtain of bubbles. All in all, the whole wedding came together very much as I had imagined it. Of course, not everything was perfect, but I really think I'm the only person who could have noticed. We were very blessed with our vendors and our wedding party was the most fun and fantastic group of people - we have good taste in friends! For a wedding of this size, I think we kept a shockingly low budget, and that was due to lots and lots of hours of brainstorming and elbow grease. It was a huge project, but definitely worth the time and effort!